About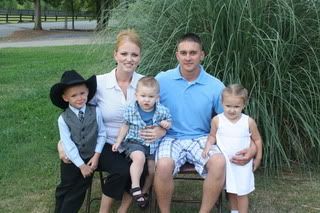 My name is Tiffani. I have been married for 12 years and have 5 kids.  Deston 10, Madison 7,  Briggs 6, Blaze 3 year old, and Praylee.  If you think my heart is full, you should see my minivan!

I am a teacher by training, but a Mom by choice. I am a SAHM (stay at home mom) and would never change that. We enjoy our time together, we are a loud active family, that knows how to have fun and live life.
I have always been a shop-a-holic….and a thrifty one at that! I always go straight to the clearance racks when I go in a store, and I NEVER buy anything at full price. My theory is: if it is not there when I come back for the sale, then it was not meant to be.
I am a God fearing, strong willed, go getter, coupon clipping, penny pinching, loud mouthed, country singing, thrift store shopping, yard sale hopping, yummy cooking, Mom to Many, barefoot and jeans type of gal.
I have become quite the "couponer" I gather each and every coupon I can find, and stash it away for good use! Until 3 years ago, I never knew that I could save on groceries and toiletries as well. I have cut our grocery bill by about 70%…going from around $250 a week to only $80.00!
This blog started as a hobby to keep myself on track and to help my family and friends. At first I thought I would have only 3 readers; my mother, Step mom, and Mother in law! However, it grew into something that I NEVER would have believed. By God's grace I have built this site into a small business for myself and family. In the past year, you may have seen my in the news several times, read about me in Newspapers, or even caught me in Magazines sold at Walmart! I have now devoted this blog to you….my wonderful readers. If you can print coupons, and clip them out of your newspapers, then I will show you how to use them!
Join me on an embarking journey of clipping coupons, pinching pennies, and learning thrifty tips for living life and loving family!

I welcome comments, questions and advertising/PR inquiries you can email me at tiffani taff (at) Yahoo (dot) com
GOOD LUCK AND HAPPY SAVINGS!